This is an old revision of the document!
---
Table of Contents
Mail Server
The Synchronet Mail Server is responsible for incoming and outgoing Internet e-mail.
Incoming
The mail server accepts submissions via the SMTP and ESMTP protocols, by default, on TCP ports 25 and 587.
By default, the mail server does not allow relaying of mail from unauthenticated clients to external mail servers.
The SMTP server supports authentication via the PLAIN, LOGIN, or CRAM-MD5 SMTP-AUTH methods (client chooses).
The SMTP server optionally supports SMTP-TLS sessions.
The SMTP server can service multiple simultaneous incoming sessions and messages, with multiple recipients per message.
The SMTP server also supports the SEND, SAML and SOML commands for delivering instant messages (a.k.a. telegrams) to users of the BBS.
Special Prefixes
Recipient mail addresses can have special prefixes to direct the routing of the incoming mail:
| Prefix | Syntax | Description |
| --- | --- | --- |
| local: | local:<user> | Deliver to local mailbox only, do not forward to external mail/netmail address |
| forward: | forward:<user> | Forward to the destination user's external mail/netmail address |
| sub: | sub:<code> | Post email contents as message on message sub-board (specified by internal code) |
| qwk-id! | <qwk-id>!<user> | Routes to <user> at QWKnet node with specified QWK-ID (may include a full slash-separated route) |
It is sometimes preferred to use an alias (configured in the ctrl/alias.cfg file) to allow the reception of a more "normal" looking email address and route to the Specially-Prefixed address. The following examples allows the reception of email sent to "cnnreport@<yourbbs>" and forwards the message to the message sub-board with the internal code of dove-deb:
cnnreport    sub:dove-deb
Tags
Incoming email is scanned for To: headers in the format <name>#<tag>@host
Tag is extracted, and if it is not found in data/user/<usernum>.smtptags it is sent to the user. If it DOES match a line in the smtptags file, the email is rejected with a "no such user" error.
Using this this feature allows you (the sysop) to easily create "temporary" email addresses. Once you start recieving spam on one tag, just disable it.
Anti-SPAM
The Synchronet SMTP Server contains several anti-SPAM measures:
DNS-based blacklist (DNSBL) look-up support with exemptions and multiple possible actions upon positive results

Email address filtering with wildcard support (

text/email.can

)

Message subject filtering with wildcard support (

text/subject.can

)

Configurable SPAM bait list (

ctrl/spambait.cfg

) for auto-blocking mail servers based on honey-pot destination email addresses

Synchronet's normal host filtering (via

ip.can

and

host.can

) and configurable LoginAttempt tracking/throttling/blocking (in

sbbs.ini

) is also employed
DNSBL
DNS-based Blacklists (DNSBL) are 3rd party databases of IP addresses whose hosts are suspected of being habitual spammers or have other security problems which make mail received from these systems highly suspicious. Different DNSBL services/servers have differing criteria for what can get an IP listed or de-listed (removed) from their database. Examine your ctrl/dns_blacklist.cfg file to determine what DNSBL services your Synchronet Mail Server is using.
The Synchronet Mail Server can use DNS queries to multiple DNSBL servers (as configured in ctrl/dns_blacklist.cfg) for each inbound SMTP/ESMTP connection from a prospective mail transfer agent (MTA). If the MTA's IP address is listed by one of the DNSBL servers, then multiple actions may be taken:
A Notice-level mail server log entry: SMTP BLACKLISTED SERVER on ... (always)

An entry added to the

data/spam.log

file (always)

SMTP commands and lines of message headers and body text may be throttled at 1 line per second when the DNSBL_THROTTLE option is set

Reject the mail message, if the DNSBL_BADUSER option is set

Message Subject may be 'tagged' with a prepended configurable string (e.g. SPAM:), see DNSBlacklistSubject sbbs.ini key

Message Header may be 'tagged' with a special header field (e.g. X-DNSBL), see DNSBlacklistHeader sbbs.ini key

Message may be received and ignored/dropped, if the DNSBL_IGNORE option is set

Message hash stored in a database of SPAM message body hashes (

data/spam.hash

), if the

DNSBL_SPAMHASH

option is set
A mail message's "Received" headers may also be scanned for DNSBL-listed IP addresses (DNSBL_CHKRECVHDRS option) so that any e-mail messages that originate or pass-through a DNSBL-listed will be treated as though it is being delivered directly from a DNSBL-listed MTA.
When a DNSBL service reports an IP address as "black-listed", any additional DNSBL services/servers are not queried.
Exemptions
MTA's whose IP address or hostname is listed in your ctrl/dnsbl_exempt.cfg file are never checked against DNSBL servers.
Mail from e-mail addresses that are listed in the dnsbl_exempt.cfg file are also exempt from DNSBL actions.
The destination addersses of email delivered by the Synchronet Mail Server's SendMail Thread are automatically added to your dnsbl_exempt.cfg file unless the NO_AUTO_EXEMPT option is set.
Synchronet Control Panel
Most of the DNSBL-related settings can be found in the sbbsctrl Mail Server Configuration tabs: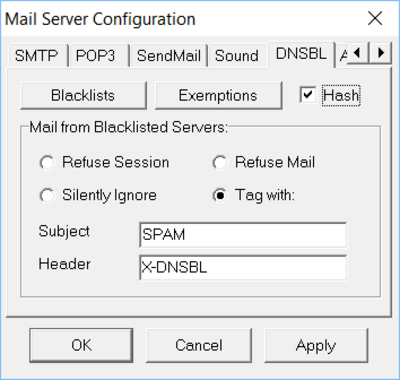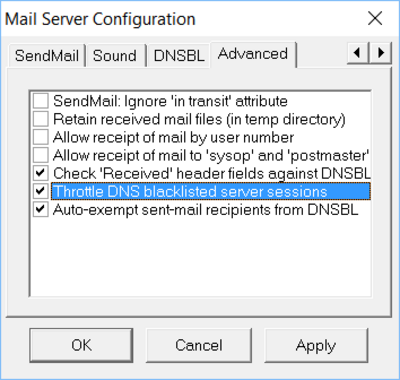 External Mail Processors
SendMail
The Synchronet Mail Server's SendMail Thread is responsible for delivering Internet email using the SMTP or ESMTP protocols, optionally authenticating using PLAIN, LOGIN, or CRAM-MD5 SMTP-AUTH methods if required by an SMTP relay server.
Both Direct Delivery and Relaying (e.g. through intermediary mail server) is supported.
The SendMail Thread currently can service one outgoing SMTP/ESMTP session at a time.
The SendMail Thread will attempt to deliver securely (encrypted via TLS) when possible, though it will fall back to plain text delivery when necessary.
Post Office
The mail server also services authenticated "post office" requests from mail clients using the POP3 protocol, by default, on TCP port 110 and POP3S (Secure/encrypted POP3 over TLS) on TCP Port 995.
The POP3 server supports client authentication via the USER or APOP methods.
The POP3 server can service multiple simultaneous incoming sessions.
For IMAP support, see Deuce's IMAP Service.
Anti-SPAM
The Synchronet POP3 server will filter-out SPAM-tagged mail automatically when a POP3 client logs in with <username>#nospam.
Append "#nospam" to your login name/alias and any SPAM-tagged messages will not be listed/downloaded. This is useful if for example you use POP3 to download mail to your phone and have limited storage or sorting options. The SPAM-tagged messages will remain in your inbox on the BBS so you should use another POP3 or local mail client to download and delete those messages (which could potentially include false positives).
See Also
Back to top